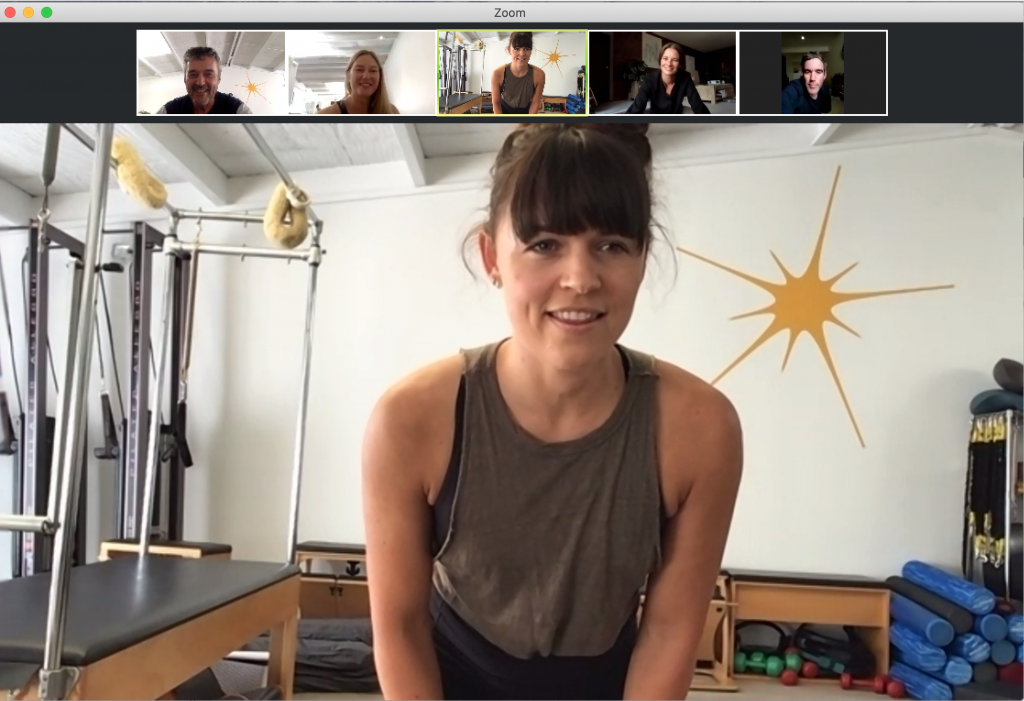 Virtual LIVE and PRERECORDED sessions are part of the "New Normal" and Polestar Pilates provides a range of Movement Mat Classes
VIRTUAL LIVE WORKSHOP WITH US-BASED KIM GIBILISCO 'Hip Me with your Best Shot' – Sunday 27 Sept '20
"Hip Me with Your Best Shot" is a LIVE 3-hour Zoom workshop for healthcare professionals, Pilates Practitioners, Yoga Teachers, Dance Educators, and professional athletes.



This fantastic and unique workshop is designed to enhance the participants' understanding of the labral pathologies and hypermobility of the hip.



Not all labral tears of the hip require surgery, especially if the client responds well to incorporating new movement strategies. This is where movement experts enter the Rehabilitation Continuum! The guidelines for the pre and post-rehabilitation of hip scopes for labral pathologies continue to evolve as the surgical procedures and rehabilitation approaches develop.




Virtual LIVE Advanced Mat Class – with Emily Adams – BACK BY POPULAR DEMAND!



Our Polestar Mentor and Educator Emily Adams is offering an awesome high intermediate/advanced level LIVE virtual Mat class aimed at Polestar students, graduates and advanced movers!



Flow through the session with Emily and explore the Polestar repertoire amongst other interesting variations!




The class takes place on 1 Saturday per month between 10.30 and 11.30am on the following dates:




20 June '20




11 July '20




8 August '20




24 October '20



Only $18 per class – you have to experience it!
[/one_sixteen]

Click here to register
[/info_box]
Virtual LIVE Mat Class – with Maree Seerden



Come and join our open level LIVE Virtual Mat class with Polestar Pilates Licensee and Educator Maree Seerden, held every Tuesday between 5.30 and 6.30pm.



Only $20 per class – you have to experience it!

FREE Mat Class – prerecorded
Our hearts go out to all those impacted by COVID-19, with endless gratitude to everyone involved working so hard to help contain this.


While we all spend our time at home, move your body and remember to breathe, slowly and deeply. To help you with this, Maree is providing this prerecorded 30-minute Mat class for you, and your family, to enjoy and participate in.


We're all in this together. May you and your loved ones be and stay well. Kia kaha
Mobility Flexibility Class – prerecorded
"You are only as young as your spine is flexible" – Joseph Pilates


Join Emily Adams in this 45-minute class to not only mobilise your spine, but to also increase flexibility and mobility throughout your whole body including all your joints and muscles.


Whether you need to free your mind from mental or emotional stress, or to free your body from physical muscular tension and restrictions, this basic mobility class aims to invite freedom in these areas by increasing full body flexibility and joint range of motion, to promote (as Joseph Pilates implies) a more youthful you!


The fee to access this video is $18.


You are not required to already be flexible as this class aims to encourage flexibility with the range you already have!
Remedial Movement Class – prerecorded
This 50-minute Remedial Mindful Mat workout with Maree Seerden is a great start to the day.


She invites you to be present in your body, and to observe what's happening so that you become more aware when you are outside in your everyday life.


Remember "Motion is Lotion"; and this is a reminder that any movement is good for your body and your mind.


The fee to access this video is $18.
Hip Mobility and the Splits – prerecorded
This workshop is not only about achieving the splits! There's no expectation to perform the splits but if your aim is to get there, this 60-minute workshop offers all the tools and guidelines to achieve both the front and side splits.


However, if your goals are just to increase flexibility in your quads, hip flexors, hamstrings, adductors, and learn a series of new stretches that facilitate this, then this workshop definitely applies to you.


This online workshop is split into a four-part playlist.


The fee to access this session is $49.