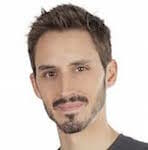 Juan Nieto PT, DO, PMA-CPT has been developing his career as movement therapist and trainer since 2002. Initially he started working intensively as a manual therapist. This experience led him to explore the movement-related sciences as a complement to his treatments.
He became a Polestar® Pilates certified instructor in 2003 when he discovered the true potential of the Pilates method as a rehabilitation technique. From then Juan has been focused on researching and developing therapeutic and performance applications within the Pilates environment.



In 2004, Juan co-founded SLINGS and manages movement studios in Madrid and Barcelona. In 2009 he debuted as Polestar® educator and licensee for Spain. During the last 10 years Juan is a frequent international lecturer specialized in rehabilitation through movement and athletic performance.



In 2016 Juan founded Runity, a new start-up born to revolutionize the way the world runs.



After thousands of hours of experience, research, study and education, Juan has defined his very particular way to address treatments and trainings, based on these three principles:



No movement nor learning: no therapy.




Rehab and training involves progressive overload and increasing movement variability.




Movement development from isolation to whole body integration.
Juan's background and education summary is impressive:



Degree in Physical Therapy




Master in Osteopathy




PMA Certified Pilates Teacher




Polestar Pilates Instructor in Studio, Rehab and Mat




Running Technique Coach




Massage Therapist




Level I Gyrotonic instructor




Franklin Method Teacher




Kinetic Control Practitioner




Anatomy Trains Practitioner




FMS & SFMA Practitioner




Certified Kinesio Taping Practitioner